Day 1
🇺🇸 Welcome to the next stop on the HLF World Tour, the Atlanta, GA USA innovation ecosystem based at Technology Square (Tech Square); the globally recognized hub of technology, startups and industry anchored at Georgia Institute of Technology (Georgia Tech).

🎓 Higher education residents include the Scheller College of Business, Georgia Tech Professional Education and several interdisciplinary research institutes and centers focused on data sciences and high performing computing at Georgia Tech. Other Tech Square citizens include startups, incubators, technology firms, corporate headquarters, corporate innovation centers, venture capital investors, hotels, retail, residential and business service providers.

🦾 There are dozens of corporate innovation centers and technology development labs in Tech Square, as well as several headquarters or large hubs of companies such as NCR, Honeywell, Anthem, Dematic and Norfolk Southern.

The continued success of Tech Square has helped launch the city of Atlanta as a contributing participant in the global technology industry. Multiple unicorn startups call Atlanta home, as well as Google, Airbnb and Microsoft who have all announced new Atlanta locations.
Day 2
🇺🇸 Tech Square resides in the heart of Midtown Atlanta. Because of this, the success of both the ecosystem and the city are inextricably linked and intertwined. Tech Square is the catalyst that ignited the spark of growth for technology and innovation in the city, but the citizens of Tech Square and Atlanta work together to create a mutually beneficial relationship drawing national and international recognition.

🏗 The graphics below show aerial depictions of the growth of Midtown Atlanta. Since 2010 alone, more than 40 major developments have been completed, 16 are currently under construction, and 14-16 more projects have been proposed. In total, that is upwards of 70 buildings adding to the landscape of Midtown Atlanta and Tech Square.

Collaboration and innovation continue to thrive, not only in the 1.2 square mile district of Midtown Atlanta but reaches beyond city limits to the rest of Georgia and the Southeast. Anchored by world class institutions of higher education, successful startups, Fortune 500 headquarters and the current and future homes of tech giants such as Google, Microsoft, Mailchimp and Airbnb; the city of Atlanta is poised for unparalleled growth and opportunities in the years to come.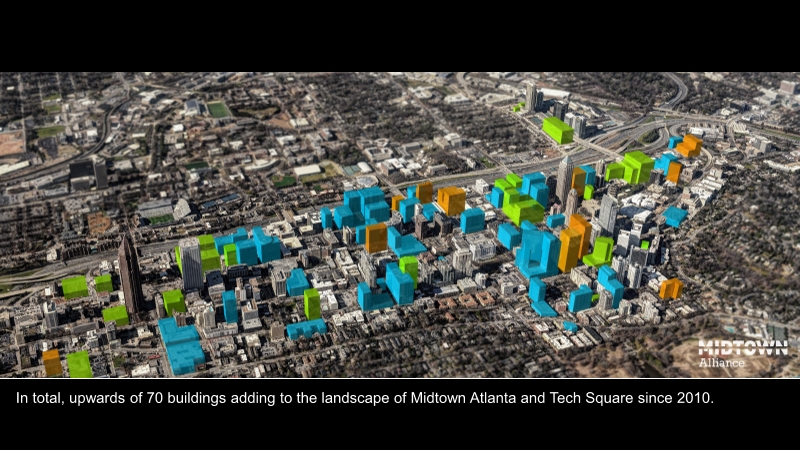 Day 3
📖 The origin story of Tech Square began in 1982 when then President of Georgia Tech, Joseph Pettit, aspired to expand the research enterprise at the Institute. He envisioned a community that would enable new innovations, accelerate research, and facilitate collaboration between public institutions and private enterprise. 

To achieve this mission, The University Financing Foundation, Inc. (TUFF) (www.tuff.org) was created. TUFF is a nationally recognized 501(c)(3) nonprofit real estate development organization dedicated to advancing education and research. TUFF is the original master developer of Tech Square, a current property owner and resident. As such, TUFF has been part of the meteoric rise of this ecosystem since the beginning and continues to support the mission of Tech Square. TUFF President and CEO Kevin Byrne shares his perspective.